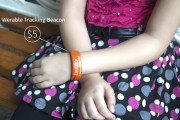 Tech startup Reverth has recently announced the start of an Indiegogo crowdfunding to bring Lineable to market, a $5 wearable tracking beacon that could save many children's lives.
United States, September 18, 2014 (Newswire.com) - Imagine going to the park watching a child play from a nearby bench. Phone is ringing, and finds that it was a spam. Look up to see the child again, but there is no child anymore. It is a matter of seconds where people can lose sight of children. Most parents would agree that one of the most frightening things to experience is to not be able to locate a child.
Every year about 80 thousand children are reported missing just in the United States. It is a significant number but there are not many solutions to it. There are numerous tracking devices for child loss prevention but the most devices are either too heavy or too expensive with possible monthly maintenance fees.
"Every year about 79 thousand children are missing just in the United States. Our Lineable team wanted to encourage the awareness of the importance of protecting children."

Claire Choi, Marketing Manager
Lineable is a new wearable tracking beacon for children at a surprisingly low cost of $5. The secret lies within the simple beacon technology and by connecting individuals as life-lines for children.
The concept of Lineable is very simple but innovative. Lineable uses the resources from nearby smart phones rather than being an independent tracker itself.
When there is a child reported missing in the radar, every Lineable app user will be notified of the missing child. And if any Lineable user is within the vicinity of the missing child, push notifications are sent to both the parents and the locator. Like the national 'Amber Alert' Lineable is able to alert the people in the neighborhood as well as pin point the missing child's location in real-time.
Since all of the functions are processed through nearby smartphones, the tracker itself was able to be produced at a price of $5.
Lineable can now solve numerous child loss incidents by instantaneously tracking children if they become missing in action. Instead of waiting at home anxiously, parents are able to track and locate their missing child through users around the world.
With the frightening possibilities of what could quickly occur, there is a huge need for a way to be able to reliably track children and find them quickly and efficiently. Lineable will definitely help reduce these unfortunate incidences at the price of a cup of coffee.
For more information visit [http://igg.me/at/Lineable]
Share: